[What's new Wednesday]: Insurgent Edition
What's going on:
Each Faction has ten members, one of these members being a group leader. That means there are 50 bloggers, 10 each trying to win the special prize. How can you support Team #Abnegation? Well follow THIS link (
bit.ly/choose_abnegation
) and show your support by following. #TeamAbnegation is going to win this thing! The faction that get's the most clicks on their Tumblr gets a special prize! And I have a feeling #Abnegation is going to be the ones to get it! Our faction leader is Amanda from Divergent Examiner! A few other blog teammates:
I Am a Reader Not a Writer
Icey Books
Reading Writing Breathing
Be sure to follow along with the Twitter buzz while we use the #DivergentNation hashtag and the #TeamAbengation hashtag! We have a ton of stuff, including giveaways and other links and a whole lot more that we will be tweeting and blogging about through out April. You can find out more about our faction via our Tumblr page, follow us on Twitter and follow along with us in our question win using the #TeamABNEGATION hash tag on Twitter. But most important: don't forget to visit our link bit.ly/choose_abnegation and show your support!
We're so selfless that we're giving away an ARC of INSURGENT.And a $25 gift certificate too.
--------------------------------------------------------------------------------------------------
In other news:
there are 3 amazing giveaways that I want to highlight: 1.
Birthday Giveaway! LC's Adventures Turns One Year Old!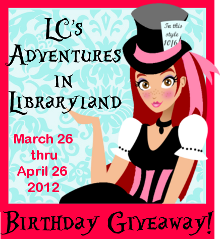 "WOOHOO, OK onto the good stuff! In celebration of my bloggy birthday, I'm hosting a fabulous giveaway to say "thank you" to all my wonderful followers! I will be giving away TWO (2) BOOKS to a first place winner, and ONE (1) BOOK to a second and third place winner!! Winners get THEIR CHOICE of any books they want from The Book Depository-- Up to a $24 value for first place and up to a $12 value for second and third place!"
2.
My Very First Giveaway!! over @ The Book Vulture
"Hey Peeps!
Yep, you heard correctly... I am announcing my first giveaway!! Well you see, it's my 18th birthday on April 5, and to celebrate I am giving away 4 copies of Slide by Jill Hathaway, each with a signed bookmark!! The giveaway is international. I have no idea how long it takes to ship internationally, so anyone outside Australia, please leave about 3-4 weeks for shipping.
Good luck everyone!!"
3.
I love my followers huge GIVEAWAY! over @YA-Aholic
"Hey book lovers! SO I haven't done a big giveaway in some time, so I figured it is time I start another one! This is the I love my followers giveaway! Why? Well obviously because I freakin love you guys! I never thought my blog would get where it is today and I couldn't thank you guys enough! :D Anyways Here are the Details for the giveaway-
*One winner will win a bundle pack of there choice
*One other winner will win one book of there choice out of the books in the bundle packs
*Giveaway is international (of course!)
*You must either be friends with YA-Aholic facebook page, or follow me on twitter or follow me on Network blogs to enter! (you DO NOT have to follow all three, you just have to be at least following one)
*Extra entries include following me on all three of the things listed above, tweeting about giveaway,or putting the giveaway button on your blog/website (:
*Giveaway will Run until May 2nd!