Blog Tour: Visions of You (review & giveaway!)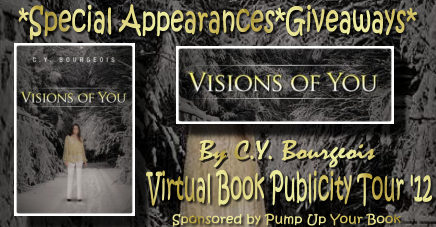 Published: December 2nd 2011
By: Authorhouse
Paperback, 212 pages
Source: Blog host
Summary from goodreads:
Shelby Leight is a wise-cracking, lighthearted teenager, looking forward to a fun-filled senior year in high school. She already knows the pain of losing a loved one, but has worked her way through the grief to come out on the other side. Then, in the fall of 1975, in the sleepy, picturesque town of Palmer Alaska, the unthinkable happens.
There's a serial killer on the hunt and one of Shelby's best friends has disappeared. The sudden loss of her friend in such a violent manner awakens something in her, an ability to communicate with the dead....visions. Along with this, Shelby falls in love for the first time only to discover the shocking truth about her boyfriend.
Can she accept him for who - what he is? Can her friends and family accept him? Shelby has a vision of the killer stalking another of her friends and is desperate to stop him before it's too late. Instead of an enjoyable senior year of high school, Shelby and her friends must come to grips with life and death - and all they hold - in their quest to find a monster before he kills again.
---------------------------------------------------------------------------------------
Review:
This book was okay. It had a slow start and doesn't really start until about chapter 10. The synopsis is interesting & the little twist they don't tell you is that it involves vampires or as their called :sucubus. So that got me to keep reading. Some parts I thought were unnecessary but they were ultimately important to the story. the chapters were short & the writing was well.
I liked that we got to go inside of Paul's & Shelby's heads. I really liked Paul. He seemed real & was okay with what he was. Reading about them made me smile because they are so sweet with each other. They were also HOT for each other (literally & figurativey). I wish the author would have developed them more especially when they were together.
Their is a lot of mystery, which I liked. I really thought that the deaths were well crafted to seem believable. Loved all of Shelby's friends. Plus we also learn something about Shelby that was cructial to the story.
Overall I really enjoyed it but it was missing that something that made me want to jump out of my seat. So i give it a 3.5 out 5.

3.5/5 Chicken feathers.This was an okay book. The Chicken liked his corn.
-------------------------------------------------------------------------------------
About the author:

C.Y. Bourgeois is a freshman author and an avid reader. After having spent countless enjoyable hours over the years reading other people's narratives, she realized that she too has stories to tell. C.Y. considers herself a native of Alaska, having lived there since the age of two. She and her husband recently moved to northern Idaho where they now reside with their two dogs and three cats and where she is currently working on her second Shelby Leight novel, Visions of Mortality.
----------------------------------------------------------------------------------
GIVEAWAY! (US ONLY!)
a Rafflecopter giveaway