[UPDATED!!] NEWS: Header,blogs, much LOVE, and Fan Girl'in!
SO much NEWS!!! I just had to tell you! First up...
Bloggy Awards NOMINEE!
WOHOO!!I found out that I've been nominated in a few categories for this year's Bloggy Awards! :)
You guys are AWESOME!
I know i am one of the co-founders but that doesn't mean I am not
ECSTATIC
that someone out their nominated me for a Bloggy! head over to their website
HERE
and check it out! I don't care if i win or not because I satisfied with at least being nominated BUT to move to the next round my blog needs to be nominated a specific amount of times. So far, the categories that I've been nominated in are:
Most Helpful & PROMO Queen/King!
Which by the way
I WOULD LOVE To go to the next round for.
So if you could please keep nominating me, I would appreciate it! & NO it is NOT against the rules to ask! I should know right? I helped in bringing the bloggy awards,
SO RALLY for Read-A-holicZ!!! =D
Notice Something...
Yup their is SOMETHING hugely different about the blog. Don't know what it is? Let me help, I CHANGED the header , again! I know I wasn't planning on it but i was doing some blog work for another blog THAT I LOVE and wanted a change too.
Here is the new Read-A-holicZ header:
Working for peanuts! =P
What is the blog I worked for's header look like, well here it is! Since i made it, i guess i can show it off...right? @__@
FREE!
Also...
This past week Read-A-holicZ PASSED 500 FOLLOWERS!!! OMG! I LOVE you guys to Infinity! My initial reaction was: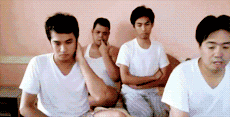 So thank you! & remember their is still my 450+ followers giveaway! to enter just click the button! =D
Also...*swoon/fainted*
Oh my freaking GOD!!! this is SO AWESOME!!
I love manga's & since I heard of this i have been wanting to get my hands on it! But now that it has a cover, lord knows I WILL be prowling around hungry, until it comes out in OCTOBER!!! >__<
So THANK YOU! Comment in August and you could win a book!