BLOG TOUR: Flicker & Burn by T.M. Goeglein [Character interview with SARA JANE + Giveaway!]
Hey guys don't go ANYWHERE! I have an epic interview with THE SARA JANE RISPOLI from the COLD FURY series! >.< I LOVE this series and was lucky to be on the tour! So keep on reading & don't miss the gifs XD
---
ABOUT THE BOOK:
---
Publication Date:
August 20th 2013
Series:
Cold Fury #2
Pages:
352
Published by:
Putman Juvenile
Organized by:
Book Nerd Tours
Summary from Goodreads (here):
Sara Jane Rispoli is still searching for her missing family, but instead of fighting off a turncoat uncle and crooked cops, this time she finds herself on the run from creepy beings with red, pulsing eyes and pale white skin chasing her through the streets in ice cream trucks; they can only be described as Ice Cream Creatures. They're terrifying and hell bent on killing her, but they're also a link to her family, a clue to where they might be and who has them. While she battles these new pursuers, she's also discovering more about her own cold fury and more about the Chicago Outfit, how the past misdeeds--old murders and vendettas--might just be connected to her present and the disappearance of her family. But connecting the dots is tough and time-consuming and may finally be the undoing of her relationship with the handsome Max--who's now her boyfriend. But for his own safety, Sara Jane may have to end this relationship before it even really starts. Her pursuers who've shown her her mother's amputated finger and the head of the Chicago Outfit who's just whistled her in for a sit-down make a romance unthinkable. The only thing that matters is finding her family and keeping everyone she loves alive.
---
THE INTERVIEW:
---
1. Describe yourself in one sentence?
I'm a girl who will fight to the death to save my family – and by that I mean I'll cause the death of someone else, not my own.
2. What 5 songs are on your workout playlist?
My workout is running for my life and I usually don't have time to put it to music.
But when I box, I play –
•
Like a G-6
(Far East Movement)
•
Gangsta's Paradise
(Coolio)
•
Pump it Up
(Elvis Costello)
•
Mo Money Mo Problems
(Biggie Smalls)
•
Blurred Lines
(Robin Thicke –
I hate that I love this song, but I do
.)
3. I know you like movies, I mean you started a club at school for it. So, what are your top 5 favorite movies?
•
The Godfather I and II
– for educational reasons
•
Silver Linings Playbook
– getting to be with the guy I love is such a great but impossible fantasy
•
The Third Man
– it taught me what true betrayal really means
•
Ferris Bueller's Day Off
– an idealized version of my beloved hometown, Chicago
•
The Shawshank Redemption
– there's no better movie in the world to inspire a girl to never give up
4. I know you mentioned Rome, I was wondering IF you went to Rome what would you do there?
Rent a scooter and buzz the Coliseum, spend a long afternoon at the Pantheon, eat gelato until I puked, jump in Trevi Fountain fully clothed, and make sure that Max Kissberg, my boyfriend (or whatever he is) was with me the whole time, so we could experience the golden light of Italy together. Just thinking about it kills me inside.
5. Would you rather get chased by masked assassins and rogue cops OR bungee jump off the Seattle Space Needle?
Give me the bungee cord…I'll jump with a smile on my face.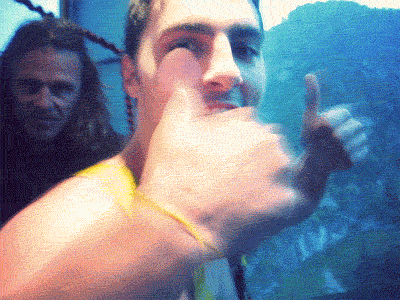 ---
ABOUT THE AUTHOR:
---
T.M. Goeglein began his career as a writer of print and television ads for a host of advertising and media companies. As a screenwriter, he created both original scripts and worked as a script doctor for several production companies in Los Angeles. He was an original contributor to the Huffington Post 'Living' section, and continues to write for both the national edition and Huffington Post Chicago. Read T.M. Goeglein's stories on the Huffington Post. His debut young adult novel, COLD FURY, will be published by Penguin/Putnam in 2012 and is the first in a trilogy; he's currently working on the second book. He lives in Chicago with his wife, Laura, and two young children
Find and Follow him on: Twitter|Goodreads | Facebook | Blog | Website
---
THE GIVEAWAY!
---
a Rafflecopter giveaway
---
THAT'S IT! HAVE U READ IT? LIKED THE INTERVIEW? LEAVE A COMMENT & ENTER :)
---