BLOG TOUR: Maid of Deception by Jennifer McGowan [EXCERPT + GIVEAWAY]
Hey everyone sorry for the silence but pretty busy here, but was asked to take part in this great tour. So check the EXCERPT below and don't forget to enter the GIVEAWAY at the end. Also leave me some comment love ^^
NOW ONTO THE POST...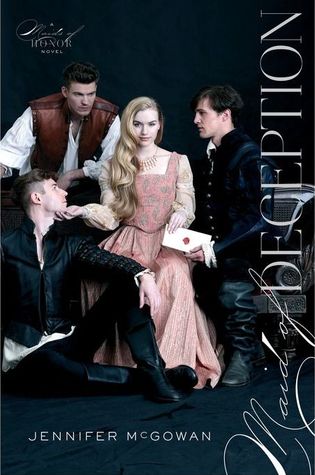 Title: Maid of Deception
Author: Jennifer McGowan
Publisher: Simon & Schuster Books for Young Readers
Publication date: August 26th, 2014
Series: Maids of Honor #2
Pages: 416
GOODREADS
|
AMAZON
|
B&N
Love may be the most dangerous weapon of all.

Beatrice Knowles is a Maid of Honor, one of Queen Elizabeth I's secret protectors. Known for her uncanny ability to manipulate men's hearts, Beatrice has proven herself to be a valuable asset in the Queen's court—or so she thinks. It has been three weeks since the Maids thwarted a plot to overthrow the Queen, and Beatrice is preparing to wed her betrothed, Lord Cavanaugh. However, her plans come to a crashing halt as rumors of a brewing Scottish rebellion spread among the court.

Beatrice's new assignment is to infiltrate the visiting Scottish delegation using her subtle arts in persuasion. The mission seems simple enough, until the Queen pairs Beatrice with the worst of the lot—Alasdair MacLeod. Beatrice cannot help but think that the Queen is purposefully setting her up for failure. But Alasdair could be the key to unlocking the truth about the rebellion...and her heart. Caught in a web of ever ­more­ twisting lies, Beatrice must rise up among the Maids of Honor and prove what she's known all along: in a court filled with deception and danger, love may be the deadliest weapon of all.
ABOUT THE AUTHOR:
Jennifer McGowan was born in Ohio, grew up in Montana, and studied in Paris. She fell in love with the Elizabethan era as a college student and is now an unrepentant scholar of that period, happily splitting her time between the past and present.

An RWA Golden Heart Award winner and multiple finalist, Jenn is the author of the Maids of Honor series, which currently includes Maid of Secrets (2013), the novella A Thief Before Christmas, and the forthcoming novel Maid of Deception (2014).

She lives and writes in Ohio, and you can connect with her online at JenniferMcGowan.com, find her on twitter via @Jenn_McGowan, or visit her Facebook page at https://www.facebook.com/AuthorJenniferMcGowan.
EXCERPT: NOT AT MY WEDDING!
I stepped into the long aisle and held my head high. It was total perfection, and all according to a plan I'd labored to bring to light for the past ten years. Finally I would be married. Finally I would be respected. Finally I would be …
Safe.
We moved forward with the elegance due our rank and station in the Queen's court, and I craned my neck this way and that, taking in the congregation that had filled Saint George's to bursting. My gaze moved along one thick knot of admirers and over to another—many of them relatives of mine or my lord's, but some who were nobles, even courtiers from other lands. There were Cecil and Walsingham, stiff in their proper garments. There was Rafe de Martine and the grinning band of Spaniards. There was even Lord Brighton, Sophia's intended, who stood a bit nervously next to a serenely lovely woman I did not recognize.
And all of them were looking at me.
I nodded graciously in the midst of their open stares and bright eyes. I felt beautiful, suddenly, with my pink-gold dress, my blond hair piled up in an impossibly ornate coiffure pinned with pink roses and bits of white lace, my eyes and mouth touched delicately with careful paints. Within my chest my heart swelled until it seemed almost twice its proper size, the smile on my face now completely unabashed. I was getting married!
The whole of the court seemed to beam back at me, sharing my joy. I glanced past a particularly gorgeous nobleman I didn't recognize, in a blue silk doublet and a short cape. Despite myself I hesitated, favoring him with a nod even as my heart fluttered a bit in my breast at the roguish glint in his eye.
That glint seemed vaguely familiar, but surely I would have remembered this young man. He was tall and fierce, with the kind of arrogance that would make him a liability in any court, particularly ours. Had the Queen invited him? Elizabeth was always looking for ways to surround herself with new men. I shook myself, realizing I was staring, but I couldn't quite tear my eyes away. Nerves, I decided.
Then the young man grinned back at me, his gaze dropping quite obviously to fix on the moderately deep V of my wedding gown as it plunged between my breasts. I knew that look. I knew that leer. And I almost stumbled in my stride.
I wrenched my gaze away, grateful now for the near murderous grip my father had on my arm as I strode ahead, poleaxed.
This was what Meg and Jane had been grinning about, and why they'd been so eager to escort my mother into the chapel. This was what Anna and Sophia had known but had dared not tell me. This! Alasdair MacLeod was at my wedding!
NOW FOR THE *drum roll* GIVEAWAY!
**$25 Gift Card Amazon or B&N (winner's choice) and a Grand Prize "Queen for a Day" Spa Kit!** **ENDS SEPTEMBER 16!**
a Rafflecopter giveaway
THAT'S IT! LIKED THE EXCERPT? READ THE FIRST BOOK ALREADY? LEAVE ME A COMMENT AND ENTER THE GIVEAWAY! AS ALWAYS LOVE YOU ALL - LISSETH ^3^