Waiting On Wednesday [44]: ALL THE BRIGHT PLACES BY JENNIFER NIVEN
Wednesday, December 3, 2014

So lets start with my Waiting on Wednesday. I love doing this meme every Wednesday. "Waiting On Wednesday" is a weekly event, hosted @ Breaking the Spine, that spotlights upcoming releases that we're anticipating.
THIS WEEKS BOOK I'M EAGERLY WAITING FOR IS...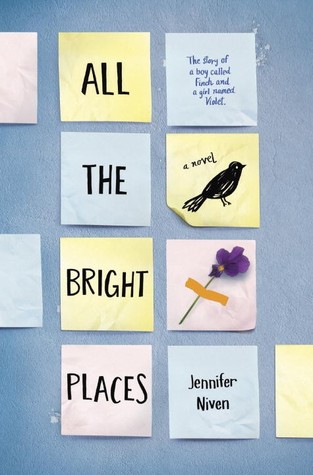 Title: All the Bright Places
Authors: Jennifer Niven
Published Date: January 6th, 2015
Publisher: Knopf
Pages: 384
ADD IT ON GOODREADS!
The Fault in Our Stars meets Eleanor and Park in this compelling, exhilarating, and beautiful story about a girl who learns to live from a boy who intends to die.

Theodore Finch is fascinated by death, and he constantly thinks of ways he might kill himself. But each time, something good, no matter how small, stops him.

Violet Markey lives for the future, counting the days until graduation, when she can escape her Indiana town and her aching grief in the wake of her sister's recent death.

When Finch and Violet meet on the ledge of the bell tower at school, it's unclear who saves whom. And when they pair up on a project to discover the "natural wonders" of their state, both Finch and Violet make more important discoveries: It's only with Violet that Finch can be himself—a weird, funny, live-out-loud guy who's not such a freak after all. And it's only with Finch that Violet can forget to count away the days and start living them. But as Violet's world grows, Finch's begins to shrink.
WHY I'M WAITING...
I saw this on Netgalley but kinda just skipped it, not because the cover was unappealing but because I didn't think it was young adult. Normally I don't pick sad books (oh the FEELLSSS). I was checking my email yesterday and saw that Bec from Readers in Wonderland had reviewed it(you should really go read it and no I was not payed in any way to sponsor this advertisement XP I just love there site). So I checked it out and after reading and seeing the gifs, I needed to get my hands on this! ;_; it comes out in January but I don't know if i can hold it!!
WHAT DO YOU THINK? HAVE YOU HEARD OF SOME BOYS? LIKE THE COVER? WAITING FOR IT TO COME OUT?
LEAVE ME YOUR WOW'S IN THE COMMENT'S! AS ALWAYS <3 YOU ALL - LISSETH ^3^