Lulu - Review: Falling Kingdoms by Morgan Rhodes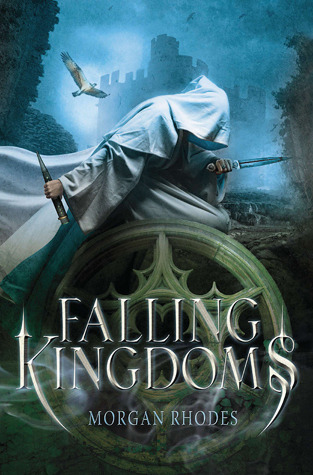 Title: Falling Kingdoms
Authors: Morgan Rhodes
Published Date: December 11th, 2012
Publisher: Razorbill
Series: Falling Kingdoms #1
Pages: 412
GOODREADS
|
AMAZON
|
B&N
In the three kingdoms of Mytica, magic has long been forgotten. And while hard-won peace has reigned for centuries, a deadly unrest now simmers below the surface.

As the rulers of each kingdom grapple for power, the lives of their subjects are brutally transformed... and four key players, royals and rebels alike, find their fates forever intertwined. Cleo, Jonas, Lucia, and Magnus are caught in a dizzying world of treacherous betrayals, shocking murders, secret alliances, and even unforeseen love.

The only outcome that's certain is that kingdoms will fall. Who will emerge triumphant when all they know has collapsed? It's the eve of war.... Choose your side.

Princess: Raised in pampered luxury, Cleo must now embark on a rough and treacherous journey into enemy territory in search of magic long thought extinct.

Rebel: Jonas, enraged at injustice, lashes out against the forces of oppression that have kept his country cruelly impoverished. To his shock, he finds himself the leader of a people's revolution centuries in the making.

Sorceress: Lucia, adopted at birth into the royal family, discovers the truth about her past—and the supernatural legacy she is destined to wield.

Heir: Bred for aggression and trained to conquer, firstborn son Magnus begins to realise that the heart can be more lethal than the sword....
MY THOUGHTS:
I'm so happy to say that I finally read Falling Kingdoms by Morgan Rhodes. And, I must say, WOW!
For those who don't know, this is a high fantasy type series which follows the fall of the Limerian Kingdom and the battle for power. We view this in the perspective of four young adults within the three kingdoms. There's Chloe, Princess of Auranos; The Paelsia Princes and Princess, Magnus and Lucia; and a Limeros peasant, Jonas. There is more narratives of minor characters within the story, too.
Chloe: At first, Chloe was deemed unlikeable when I started reading through her perspectives. I mean she was bratty, lacks a bit of common sense and got herself into trouble. More towards the end though, Chloe's character develops and we can see a kick butt character forming underneath. Her story line was super interesting too, She not only has an internal battles with herself but also an external one. She deals with Aron forced fiancé) whom is blackmailing her and has a murdered a wines sellers son causing there to be a dispute between the kingdoms of Auranos and Limeros. The only thing that felt a bit off was the bad case of insta-love that popped out of nowhere.
Jonas: Jonas is the brother of the wine sellers son who was murdered by Chloe's fiance. After seeing such a cruel act from this prosperous and wealthy kingdom, He decides to take matters into his own hand. Jonas perspective was the most interesting one out of all, I think that it's intriguing to read from the side of a person bent on revenge over one his loved ones. We see inside his mind and how he contours what really happened that day Aron stabbed his brother.
Lucia -
Magnus -
Overall 4.5 STARS! This book had me clinging to each page and now, I must find a way to get my hands on the second book.
I definitely recommend this for those who love high fantasy, action and doesn't mind a bit of character death and violence.
WHAT DID YOU THINK? HAVE YOU READ FALLING KINGDOMS? LIKE IT? LET ME KNOW IN THE COMMENTS BELOW!