Waiting On Wednesday [47]: Hello, I Love You by Katie M. Stout
Wednesday, March 11, 2015
So lets start with my Waiting on Wednesday. I love doing this meme every Wednesday. "Waiting On Wednesday" is a weekly event, hosted @ Breaking the Spine, that spotlights upcoming releases that we're anticipating.
---
THIS WEEKS BOOK I'M EAGERLY WAITING FOR IS...
---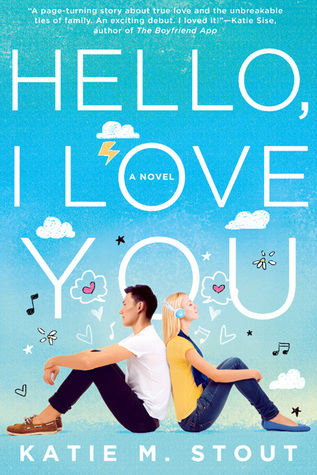 Title: Hello, I Love You
Authors: Katie M. Stout
Published Date: June 9th, 2015
Publisher: St. Martin's Griffin
Pages: 304
ADD IT ON GOODREADS!
A teen escapes to a boarding school abroad and falls for a Korean pop star in this fun and fresh romantic novel in the vein of Anna and the French Kiss.

Grace Wilde is running—from the multi-million dollar mansion her record producer father bought, the famous older brother who's topped the country music charts five years in a row, and the mother who blames her for her brother's breakdown. Grace escapes to the farthest place from home she can think of, a boarding school in Korea, hoping for a fresh start.

She wants nothing to do with music, but when her roommate Sophie's twin brother Jason turns out to be the newest Korean pop music superstar, Grace is thrust back into the world of fame. She can't stand Jason, whose celebrity status is only outmatched by his oversized ego, but they form a tenuous alliance for the sake of her friendship with Sophie. As the months go by and Grace adjusts to her new life in Korea, even she can't deny the sparks flying between her and the KPOP idol.

Soon, Grace realizes that her feelings for Jason threaten her promise to herself that she'll leave behind the music industry that destroyed her family. But can Grace ignore her attraction to Jason and her undeniable pull of the music she was born to write? Sweet, fun, and romantic, this young adult novel explores what it means to experience first love and discover who you really are in the process.
---
WHY I'M WAITING...
---
LULU:
THIS.BOOK.THOUGH.
You guys,I don't think there is a way to tell you how excited I am for the release of this book. It's like everything that is great in life is being put into one book (I got it bad ya'll!).How AWESOME does this book sound? For one, the setting is in Korea, which is absolutely amazing and a place that I've never read in a contemporary before (YAY for diversity!). Plus, there is a Korean pop star as a possible love interest. Nuff said. And now, I must wait 4 months to read this gem. Hopefully, Some of you want to read this too and we can all suffer the wait together.
Much <3, Lulu
WHAT DO YOU THINK? HAVE YOU HEARD OF HELLO, I LOVE YOU? LIKE THE COVER? WAITING FOR IT TO COME OUT?
LEAVE ME YOUR WOW'S IN THE COMMENT'S!