Blog Tour : Never Always Sometimes by Adi Alsaid [Review // Playlist // Giveaway]
Back again today for my stop on the NEVER ALWAYS SOMETIMES blog tour. Still not back into the swing of things, mostly because the computer keeps flailing on me. Anywho, keep on reading, leave me some comments (it makes me smile), and enter the giveaway!
Tour Hosted by the Fantastic Flying Book Club.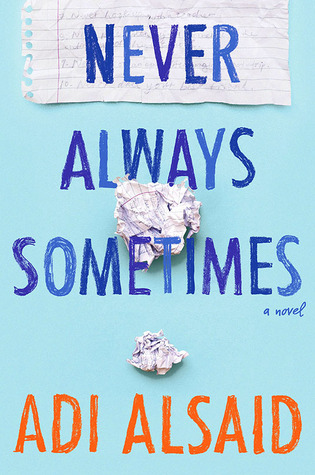 Title:
Never Always Sometimes
Author:
Adi Alsaid
Publisher:
Harleqquin Teen
Publication date
: August 1st, 2015
Pages:
320
Source:
For review via Netgalley
GOODREADS
//
AMAZON
//
B&N
//
THE BOOK DEPOSITORY
Never date your best friend

Always be original

Sometimes rules are meant to be broken

Best friends Dave and Julia were determined to never be cliché high school kids—the ones who sit at the same lunch table every day, dissecting the drama from homeroom and plotting their campaigns for prom king and queen. They even wrote their own Never List of everything they vowed they'd never, ever do in high school.

Some of the rules have been easy to follow, like #5, never die your hair a color of the rainbow, or #7, never hook up with a teacher. But Dave has a secret: he's broken rule #8, never pine silently after someone for the entirety of high school. It's either that or break rule #10, never date your best friend. Dave has loved Julia for as long as he can remember.

Julia is beautiful, wild and impetuous. So when she suggests they do every Never on the list, Dave is happy to play along. He even dyes his hair an unfortunate shade of green. It starts as a joke, but then a funny thing happens: Dave and Julia discover that by skipping the clichés, they've actually been missing out on high school. And maybe even on love.
In one sentence: Full of witty characters, crazy drama, finding yourself, and love!
Long Version: Since this is an ARC, I'll keep it spoiler free. Let me just say that I could not stop reading this book, the writing and the characters really kept me hooked to the story. I normally don't read any contemporary books because they have lots of cliches, but this was a book full of first never making them, and then breaking that rule and doing those cliches.

I loved the first half of the book, then around 3/4 of the book it went into New Adult territory, which i don't mind but for younger readers there definitely should be a warning somewhere in the summary to let them know that there is some sexual content. Then after that in the last quarter of the book everything had a less joyful tone because of certain things that happened ;) My emotions were definitely taken on a wild ride. Also liked that Julia and Dave got there own POVs.

I loved Dave and Julia, both were funny, witty, and very close. At first I was meh about Julia but once I got to read through her eyes, I got a more complete view of her emotions. I loved the friendship they had and the connection they felt for each other, nothing felt forced and they were really sweet with each others, as friends. There was a lot of confusing emotions in that small 3/4 part of the book with these characters. I loved the side characters too! Like Dave's brother Brett.

In the end, nothing went as it should have or as i expected but i ended up enjoying the ride this book took me on. A really enjoyable summer read that kept me grinning. If you've read the book then you'll get the gif below, loved the ending!!
~ (M I N I) P L A Y L I S T - T I M E ~
1. Twenty One Pilots - "R I D E"
LYRICS:
I just want to stay in the sun where I find,
I know it's hard sometimes,
Pieces of peace in the sun's peace of mind,
I know it's hard sometimes,
Yeah I think about the end just way too much,
But it's fun to fantasize,
On my enemies I wouldn't wish who I was,
But it's fun to fantasize.
I'm falling so I'm taking my time on my ride,
I'm falling so I'm taking my time on my ride.
2. The Runaway Club - "B Y _ Y O U R _ S I D E"
LYRICS:
If you wanna leave we can leave now
If you wanna stay we can stay all night
If you wanna sing we can sing loud
If you wanna dance ya we can dance
A while
I wanna be by your side
And that is the only place I wanna be
3. Lorde - "G L O R Y _ A N D _ G O R E"
LYRIC:
There's a humming in the restless summer air
And we're slipping off the course that we prepared
But in all chaos, there is calculation
Dropping glasses just to hear them break
You've been drinking like the world was gonna end (it didn't)
Took a shiner from the fist of your best friend (go figure)
It's clear that someone's gotta go
We mean it but I promise we're not mean
Adi Alsaid was born and raised in Mexico City, then studied at the University of Nevada, Las Vegas. While in class, he mostly read fiction and continuously failed to fill out crossword puzzles, so it's no surprise that after graduating, he did not go into business world but rather packed up his apartment into his car and escaped to the California coastline to become a writer.

He's now back in his hometown, where he writes, coaches high school and elementary basketball, and has perfected the art of making every dish he eats or cooks as spicy as possible. In addition to Mexico, he's lived in Tel Aviv, Las Vegas, and Monterey, California. A tingly feeling in his feet tells him more places will eventually be added to the list. Let's Get Lost is his YA debut.
Win (1) of (3) finished copies of NEVER ALWAYS SOMETIMES by Adi Alsaid (US Only)
Ends on August 11th at Midnight EST!
a Rafflecopter giveaway
THAT'S IT! EXCITED TO READ NEVER ALWAYS SOMETIMES? LEAVE ME A COMMENT AND ENTER THE GIVEAWAY!