Titans by Victoria Scott [Sneak Peek + International Giveaway - ENDS 12/14]
Thursday, December 10, 2015
I am so glad I am part of this street team and family because I get to spread the word about the upcoming release of the awesome Victoria Scott. Which is why today I am back here! So lets jump right in :D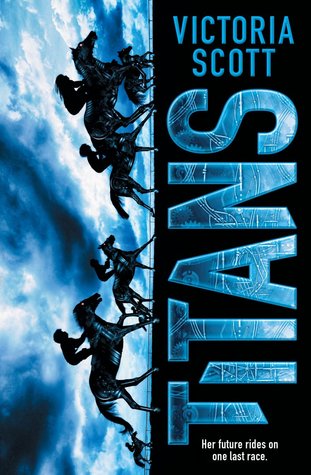 Title:
TITANS
Author:
Victoria Scott
Publisher:
Scholastic Press
Publication date
: February 23rd, 2016
Pages:
320
Pre-order:
GOODREADS
//
AMAZON
//
B&N;
//
THE BOOK DEPOSITORY
From Victoria Scott, author of FIRE & FLOOD, comes a thrilling story of impossible odds.

Ever since the Titans first appeared in her Detroit neighborhood, Astrid Sullivan's world has revolved around the mechanical horses. She and her best friend have spent countless hours watching them and their jockeys practice on the track. It's not just the thrill of the race. It's the engineering of the horses and the way they're programmed to seem so lifelike. The Titans are everything that fascinates Astrid, and nothing she'll ever touch.

She hates them a little, too. Her dad lost everything betting on the Titans. And the races are a reminder of the gap between the rich jockeys who can afford the expensive machines to ride, and the working class friends and neighbors of Astrid's who wager on them.

But when Astrid's offered a chance to enter an early model Titan in this year's derby, well, she decides to risk it all. Because for a girl from the wrong side of the tracks, it's more than a chance at fame or money. Betting on herself is the only way she can see to hang on to everyone in the world she cares about.
Victoria Scott is the author of TITANS (Spring 2016), VIOLET GRENADE (Summer 2017), the FIRE & FLOOD duology, and the DANTE WALKER trilogy. She is published by Scholastic and Entangled Teen, and is represented by Sara Crowe.

Two of her novels, SALT & STONE and TITANS, have received starred review, and FIRE & FLOOD was nominated as a YALSA Teens' Top 10 book, and was a Silver Falchion Award nominee. Victoria's novels have been bought and translated in eleven foreign markets.

The author lives in Dallas, and loves hearing from readers.

CONNECT WITH HER: WEBSITE // TWITTER // GOODREADS // FACEBOOK // INSTAGRAM
Below is a snippet of the Titan Enquirer, a gossip paper featured in Titans. The paper is printed year round in Detroit, but the news, and gossip, really heats up during the Titans racing season (June - August). This article is from this year's races (not the year Astrid competes), and talks about a jockey being injured on the tracks--something that happens frequently, unfortunately.
THAT'S IT! SOUND INTERESTING? LET ME KNOW DOWN BELOW AND ENTER THE GIVEAWAY!